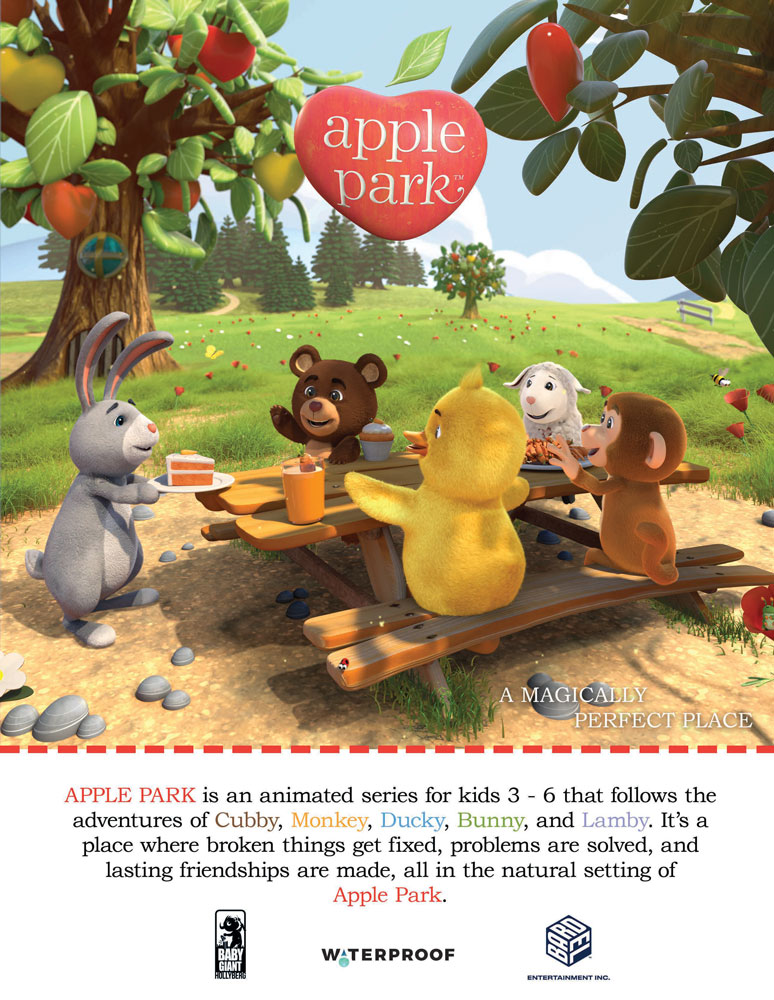 Bardel announces new partnership and starts development on new preschool show "Apple Park".
Vancouver-based Bardel Entertainment will start collaborating with US/German animation studio Baby Giant to finalize the development of the preschool show "Apple Park".
Based on the eco-friendly toy line and book series with the same brand name, the show started development at Baby Giant with the support of Craig Bartlett (Dinosaur Train, Ready Jet Go!). The partners will introduce the show at Kidscreen and Annecy 2022.
"We are very excited about this new partnership! At Baby Giant, we love to focus on fun, unique, and valuable shows. We believe that the experience of Bardel will help to bring Apple Park's beautiful universe to life!" – Heiko Nemmert, CEO, Baby Giant

"Apple Park is an engaging series for preschoolers that promotes conscious living with heartfelt stories of discovery and friendship. We're excited to be partnering with Baby Giant on such a wonderful project." – Tina Chow, CEO, Bardel Entertainment

"This new partnership and project speaks to the diverse nature of both Bardel Entertainment and Baby Giant, we are thrilled to see this project come to life." – Richard Grieve, COO, Bardel Entertainment
About Bardel Entertainment:
Bardel Entertainment Inc. is an Emmy Award®-winning studio with over 30 years of industry leading experience. Bardel's reputation has been built on three core values: quality, creativity, and innovation. Bardel has two state-of-the-art studios located in Vancouver and Kelowna, Canada. Currently, Bardel provides animation services for a diverse slate of blue-chip clients including Netflix, Warner Bros., Cartoon Network-Adult Swim, Nickelodeon, HBO Max and Disney +. With top audience hits such as The Dragon Prince, Rick and Morty, and Teen Titans Go!, Bardel attracts award-winning technical and animation talent from around the world. Bardel consistently embraces collaborations that inspire growth and creativity, while always valuing and nurturing talented artists. Bardel is committed to delivering only the highest quality content.
About Baby Giant:
Baby Giant is an American/German innovative maker studio focused on computer-generated entertainment. Four partners from the US, Canada, and Germany founded the studio in 2016. Baby Giant develops and produces content for worldwide audiences and acts as a white-label development studio within the industry. All projects' core foundations are unique and distinct ideas and stories set in fantastic imaginary worlds.
About Apple Park Products:
Apple Park was founded with the mission to create high quality eco-friendly toys that benefit children and the environment. With her two young children in mind, founder Angie Ting, partnered with Susan Pate and Chloe Pate from Pate International Design, a firm known for its environmentally conscious designs, and together they created Apple Park in 2009. Apple Park's naturally hypoallergenic plush toys and accessories are handmade with eco-friendly materials including 100% organic cotton, natural silk and sustainable corn fiber stuffing, which are free from harmful chemicals that can cause health problems for children. Apple Park provides parents peace of mind, empowering them to make the best decisions for their babies and the future of our planet.