We caught up with Marshall Fels Elliott, Bardel Supervising Storyboard Director on Funrise's new hilarious and colorful kids' show Rainbow Butterfly Unicorn Kitty aimed 6-11yrs, and we found out what it takes to lead a storyboard team on a Nickelodeon show!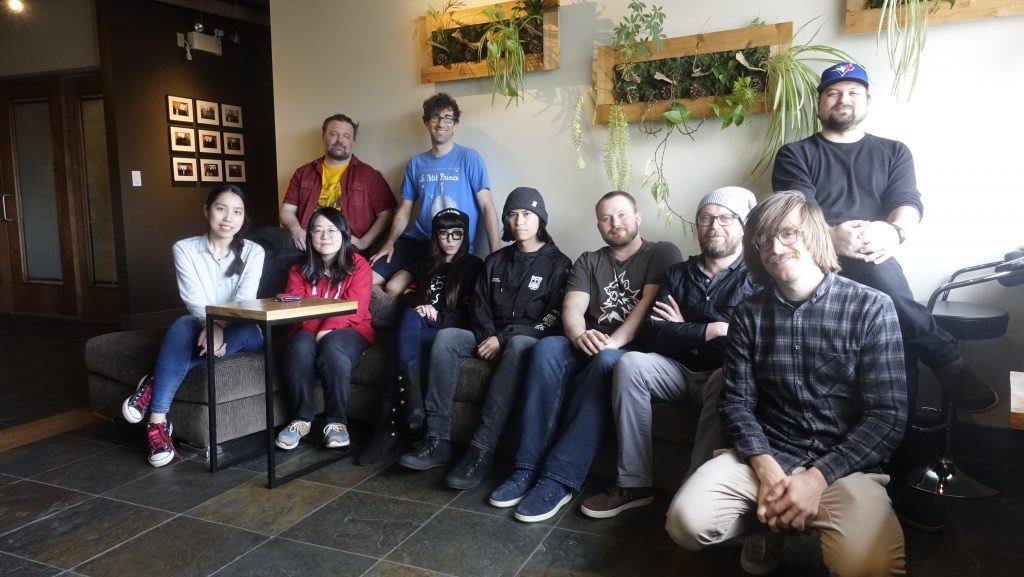 Ashley: How did you become interested in a career in animation?

Marshall: I've always enjoyed telling stories through art—it started with drawing and moved on to making comics, flipbooks, and short films. A career in animation just seemed like the natural evolution of that passion.
Ashley: How long have you been working in the animation industry?
Marshall: I graduated from Emily Carr in 2008 during the downturn, and struggled to land my first job, so I did freelance design and animation for a bit. In 2009, I worked as a 3d animator at a small company no longer in existence called Digital Alchemy on a handful of projects. And in January 2010 I started at Studio B as a board revisionist on My Little Pony Season 1. So, if my math is correct, 11 years.
Ashley: When you first knew you'd be working on a show called Rainbow Butterfly Unicorn Kitty, what did you think it would be like?
Marshall: Ha, funny question! Honestly, I thought it could go one of two ways: 1) it would be a fluorescent, shiny, fluffy show for 5-year olds, or 2) it would be a quirky self-aware show that pushes the boundaries of decency and plays with the juxtaposition of cutesy and crazy. Turns out the DNA of the show is somewhere in the middle…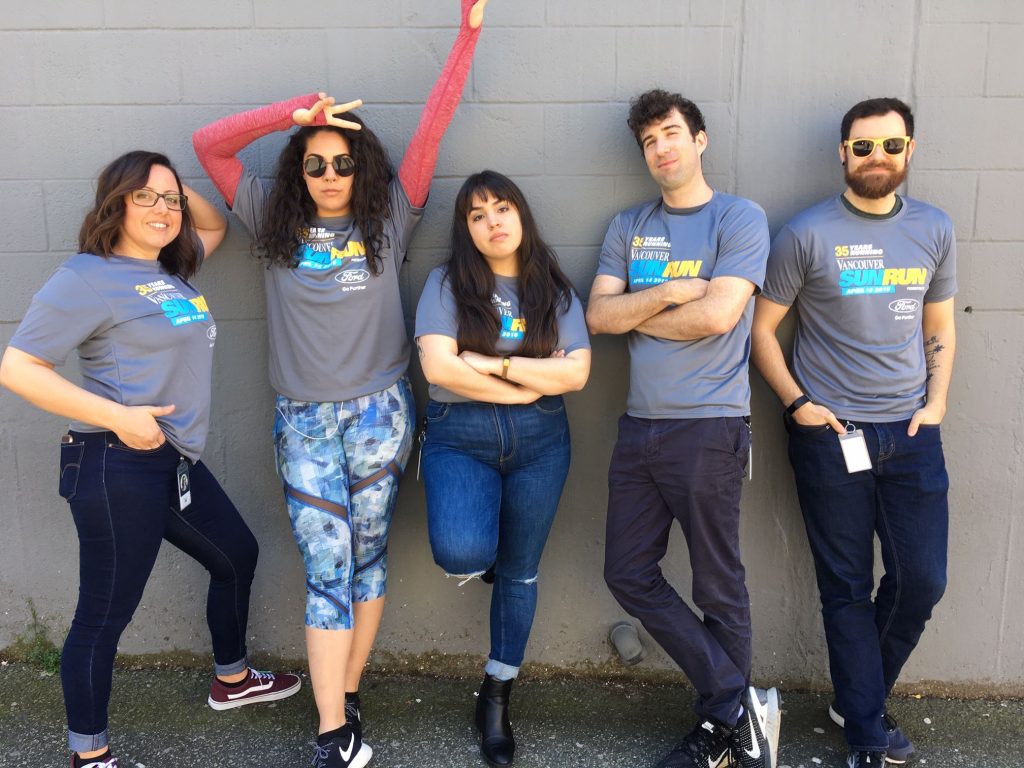 Ashley: Describe a typical day directing RBUK?
Marshall: As story director on the show, there was quite a bit of variety throughout the week. An example of a day could look something like this: start out by going through client notes on an animatic of episode 127. Collaborating with my lead board artist so that he can hand out the notes to our story revisionist team while I duck into a 3-hour thumbnail review with a board artist on episode 133. Afterwards, maybe start making my own notes on the next animatic coming down the pipe, episode 129. Work through some new thumbnails on paper before being pulled into a brief discussion about a new joke a board revisionist artist is pitching for episode 128. Then get called into the edit suite to sit down with one of our editors to go over the latest edit of 127, which now incorporates the client notes from the morning. Enjoy my lunch (which I just remembered to eat) in the edit suite, while trying my best not to chew too loudly.
Ashley: How has the show evolved from the first episode to the last?
Marshall: A lot! RBUK is a brand-new show, and we were really all figuring it out together as we went along. At the beginning, we were maybe leaning a little too much on the aesthetics of Ren and Stimpy and Sponge Bob, not to mention throwing some comedy darts in the dark that landed in some weird, albeit awesome, places: who doesn't want to watch the true-life story of a sausage's journey to outer space! Over time, the show began to find its own voice, and that lead to the jokes and visuals becoming a little more unified and a little more Mythlandia. What was exciting about RBUK, was the way in which, from our Show Runner, Rich Magallanes, down throughout the story team, it was a very open and collaborative environment, and each artist on the team had a hand in the evolution, growth, and identity of the show.
Ashley: What are some common challenges yourself and the storyboarders faced?

Marshall: Every production has its growing pains. And for us, right off the hop, we didn't have an art director for the first 3 months of production, so that put a lot of pressure on the story team to design everything from characters to locations in each episode, and that was tricky on a new show that was finding its identity. Also, on such a long contract (1.5 years) sticking to schedule, an episode a week for over a year, working on 4 plus episodes at a time, keeping to the deadlines while maintaining a high quality–finding and staying in rhythm–wasn't always easy. When you're in that sort of rhythm for a long period of time, having an episode thrown at your team that needs a lot of work can be hard to absorb and stay on schedule. Luckily, we were fortunate to not only have a great team of talented, dedicated artists, but also, we received a lot of support from Bardel. And that was really helpful, allowing us to stay on schedule and have fun at the same time!
Ashley: Congratulations on getting to write one of the episodes!! What was that like? Who was all involved in that process?

Marshall: Thanks! Getting into writing has been a big goal of mine, so when I got the chance to co-write an episode, I was beyond thrilled! I felt very fortunate to work with such an awesome show runner, in Rich, who was open to giving me a chance to collaborate with him on penning an episode. The writing process started off with Rich sharing a premise for an episode involving a new character he wanted to introduce, and the problem we had to solve was that our story editors, Will Schifrin and Ray DeLaurentis, felt the story was too centred on this new character and that we needed to give Felicity more agency. In RBUK stories, we want our main character to be at the centre of the story, being active and leading the story forward, rather than passively reacting to the circumstances of the story. That was the groundwork. So, from there I presented 3 options for stories framing Felicity more centrally. Rich picked one, and developed it further, and Will and Ray gave us notes to implement for the outline—which is essentially taking the premise and breaking it into all the story beats that make up the episode. I did a first crack at the outline, which Rich edited and finessed before sending it for another round of notes. Then Rich took the helm with the first draft and sent it to me for editing. After another round of notes from the guys, I wrote the second draft. And then for the final draft—and this was the funniest part—Rich, Will, Ray, and me (over skype), all got together in a writers' room and spent 4 hours or so combing over every line. And that was it!
Ashley: How would you like to see your career evolve?

Marshall: Tough question. I think as artists, it's important to always be growing and learning. (That's what was so exciting about getting the chance to write a script—that was a learning leap for me!) I always strive to work on projects, and with artists, that present the greatest opportunity for creative, artistic, and personal growth. Having said that, balance—personally and professionally—is very important to me as well. I'd love to continue directing projects that present new challenges, but also perhaps do some writing in a less structured work/life environment (perhaps from a beach somewhere ha-ha).
Ashley: If you could take on the role of any character in the show, who would you be?

Marshall: Aghh, even tougher question!! I think I'd aspire to be Felicity, she's just so unapologetically herself while being so thoughtful of everyone else. She really embodies such great ideals and looks fabulous while she does it.
Ashley: What inspires you creatively?

Marshall: To continue to tell fun, unique stories. Ideally, ones that contribute positively in some way. Either through their message, or in critically engaging people. That's really at the heart of what I love to do.
Ashley: What advice would you give to a storyboard artist hoping to work on a show like RBUK or any show at Bardel?

Marshall: Draw, draw, draw. And soak in as much as you can. Dissect films, comics, boards, illustrations, and other artists' work you admire. Not just in a technical artistic sense, but in a story, dramatic, and comedy sense. How are they engaging with their audience? What, and how, are they communicating? Storytelling is all about communication and playing with the expectations of your audience. Try to incorporate what you learn into your own work. And draw some more!
Check local listings for airtimes and availability of RBUK in your region!
---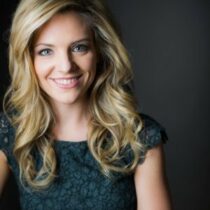 Ashley is the Community & Communications Manager at Bardel, and she is also an actress who has been artistically murdered in many short films, including being drowned in a toilet by a baby.
Author posts