Interview with Jake Biberdorf – DinoTrux Animation Supervisor
Ashley: What is DinoTrux about?
Jake: Machine meets reptiles. The bigger picture: DinoTrux is about friendship and working together to overcome obstacles.
Ashley: What do you do on DinoTrux and how long have you been on the show?
Jake: I'm an Animation Supervisor. I oversee five teams and 43 animators. I've worked on the show for two years, since its inception.
Ashley: What does your job entail?
Jake: I'm basically "quality control". I review the animation before it goes to DreamWorks. I'm the in between person for DreamWorks and Bardel. My workflow varies from week to week depending on what phase of animation the teams are on. At the start of each phase, I don't have many shots to view… as the end of the phase nears, I'm looking at over 100 shots per day. I try to make myself available to the animators at all times to answer questions and help solve any problems that arise. I also spend a lot of time managing the crew to make sure that we are able to meet the deadlines.
Ashley: What's a good day in your life?
Jake: I always enjoy looking at the animation…and good days are when I enjoy the animation I'm looking at (laughs). I also enjoy the Launch at the layout phase and watching the animatic with the team. After we watch the animatic we talk expectations; discuss the problems we had to overcome for the episode, and things to watch out for.
I also work with the Design team and the Storyboard team about character ability, functionality and do-ability. Storyboard artists need to know what the characters are capable of, so they can storyboard actions that my teams can animate. The characters are very mechanical and they have limitations that can become a challenge.
Ashley: What's an example of a challenge?
Jake: Rep-tools and their solid bodies. The bodies don't bend or move. The character is basically a solid wrench with legs, so they can't really move much before tail crashes through the ground, they can't turn their heads, so they have to turn their whole bodies to change their focus. There are certain limitations the characters have that actually "build" character but these limitations still pose challenges that we have to sort out before animating them.
Ashley: It's like saying "how human can you make them without losing the character."
Jake: Yes, exactly, it's like in the early stages we may have a character climb the ladder but we can't just do that in animation without comprising their character. At that point we look for solutions or 'work arounds' with DreamWorks. We have to think about how a machine would climb a ladder. They might have to jump up the ladder. Or if they need to pick something up, the may need to pick it up with their mouth. These seemingly "simple" actions are character choices that add to the quality of the work.
"At Bardel you have the opportunity to work on a variety projects and styles. Bardel brings in games, features, TV shows, 2d, and 3d. I don't feel like I don't need to go another studio to work on something different. And the people are great! It's always been a job I enjoy." – Jake Biberdorf
Ashley: It's interesting, it's a lot like making choices in acting. Once you know your character, you have a variety of choices you can make within that character.
Jake: An easy character animates themselves because they can only do so much. With the more challenging characters, there are lots of different ways to get the same result. I like the characters who are limited enough that there's only a few choices but open enough that those choices are appealing.
Ashley: What is one of the biggest successes you've experienced?
Jake: That's a hard one (pauses). What I'm most proud of is when the animators take a certain initiative and bring their own ideas or personality into a sequence they are animating. We had a particular episode where they built a race track and the character was racing around. One of our animators took his sequence and did a lot of research with camera moves to make it more like Nascar and it really paid off! It's nice to see animators take that extra step and who are that passionate about their own work!
Ashley: How much leeway do the artists have to be creative?
Jake: We encourage the animators to act out the shot and bring their skills to the table. We want them to inject the life of the characters into the show. We don't want them just to follow the animatic or storyboards. I've been in both situations. I worked on a show where the client said, "Follow the animatic" but it often resulted in boring, stale animation. Whereas, the more freedom we give the animations, the more we reveal the character's personality.
Ashley: What's one of the best things about working for Bardel?
Jake: I've worked for Bardel on and off for 18 years. My first job was on Joseph in traditional animation. I had the opportunity to work in 2D and 3D, flash, harmony. At Bardel you have the opportunity to work on a variety projects and styles. Bardel brings in games, features, TV shows, 2d, and 3d. I don't feel like I don't need to go another studio to work on something different. And the people are great! It's always been a job I enjoy.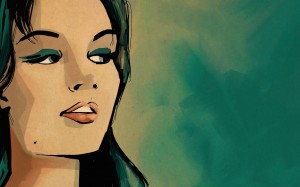 Ashley: What kind of advice would you give someone coming into the industry?
Jake: My advice to animators entering the industry would be to treat your job like a career.
I've been artistic my whole life and I've always taken the time needed to grow and further my career. What you learn in school is only a fraction of what you can learn during a production. It takes time to develop all the skills needed to become a successful animator. To those who want to be at a certain level very fast or to climb to director status or to work on a feature, I say: take your time to build your skill. Not a lot of people get the opportunity to work on a DreamWorks show straight out of school! You should respect those opportunities and use that time to further your skills.
Ashley: Is there a career in DinoTrux?
Jake: Absolutely. Working on a show like DinoTrux makes you a better-rounded animator. It makes you more adaptable to taking a job in other fields. It gives you a skillset to work on shows like Transformers or Hot wheels. For example, someone who works on DinoTrux might have a better sensibility towards working on the robot in a movie such as Sucker Punch.  I also feel that if you can give DinoTrux life and a soul, you can give anything life and a soul. Much like the Pixar lamp in "Luxo Jr.".
Ashley: Why is the show unique?
Jake: There is nothing else like it! The idea is genius. When I first started, Eric King, Animation Director at DreamWorks, and I spent time playing with the models. We didn't have anything to reference for the show. We had to be creative with our references. For example, our character's jaws only rotated in one direction. So, the Muppets became our reference. On the other hand, shows like King Julien or Puss in Boots have the movie to reference. I spent a lot of time looking at cars and construction sites for reference. It was a lot of fun. When Eric and I first started developing the characters movements we learned the DinoTrux needed a lot more weight. That was one of the challenges. In the beginning we animated them moving a lot faster which made them seem light weight and made of plastic! (Laughs) But these DinoTrux are huge, both in real life and in Maya. One of our main characters Skya, is the same size as a set from King Julian…and we have even bigger Characters showing up near the end of season 2!
Ashley: What is something you do outside of work?
Jake: I love cars. I've rebuilt motorcycle engines. I love driving and watching motor sports. I have an old Porsche 914 that I'm trying to find the time to restore. My brother is also mechanically inclined and I grew up watching him restore engines. I understand the physics of how cars to move and how to put character into them.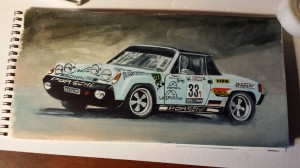 Ashley: I know you have a five-year old daughter. Does she like DinoTrux?
Jake: Yeah, I have a 5-year-old daughter named Kate. She sings the theme song but she doesn't like it quite as much as Winx club! Maybe if we got a Dinotrux fairy that sparkles!
Ashley: What is something you do outside of work that people don't know about you?
Jake: I'm pretty low key. I like to go home and spend time with my family. I also love to paint. That's my creative outlet. I'm trying to learn watercolor right now. I've been watching You-tube videos and reading books. And just doing it! The best way to learn is just doing it. My daughter is very crafty too and she inspires me in new ways! My interests are changing a bit. I'm actually interested in landscapes, whereas 10 years ago it was more so, pop art.
Ashley: Any last words?
Jake: Just how awesome the DinoTrux animators are! I'd be nothing without them.  I never look at my successes; I always look at their successes! I'm super proud of all the work they produce!