Well, as some of you may or may not know, I'm the Key Animation Lead on All Hail King Julien out here in lovely, awesome Kelowna! I've been out here now for just over a year and half, and came out this way to help setup and expand our Layout teams for the DreamWorks productions. In short, I love Kelowna! If you're an outdoorsy sort, or are maybe not so fond of rain 6 months of the year, or like smaller town feel with the big city luxuries, Kelowna is the ticket!
RELATED ARTICLE: MEDIA INVITE TO KELOWNA OPEN HOUSE
About 2 months ago, after seeing all the growth and expansion going on out here – not only within Bardel, but within Kelowna on all levels…housing, condos, restaurants, schools, businesses, tourism… this place is booming – I figured, "I better get in on this too! …lest Kelowna reach the imaginary price ranges of Vancouver and I never have a chance at affording something again" …I began the hunt for my first house.
If you have ever shopped for a house before, you know what I was in for, and if you're considering it at all, it's a blast, but also a huge learning process. You start out all excited about that final goal – " I WILL OWN A HOME!! …I'm going to have yard to BBQ in, my own living room to crank movies up as loud as I want, my own washer and dryer!! :P"
It's a very exciting road to start down. And the search begins! You meet realtors every free minute you have, you're constantly searching MLS for that dream home in that dream location (that you can actually afford – and ya, out here in Kelowna, you actually have a chance at affording something! – sorry Vancouver, but the last time I checked my budget, a million dollar tear down wasn't in the books) And finally you find it!
You step off the plank and throw down an offer, and after maybe a couple of back and fourth exchanges between realtors, the sellers except!! YOU HAVE JUST BOUGHT YOUR FIRST HOME!! Well sorta. Actually now the hard part really begins. And this is what this blog is really about.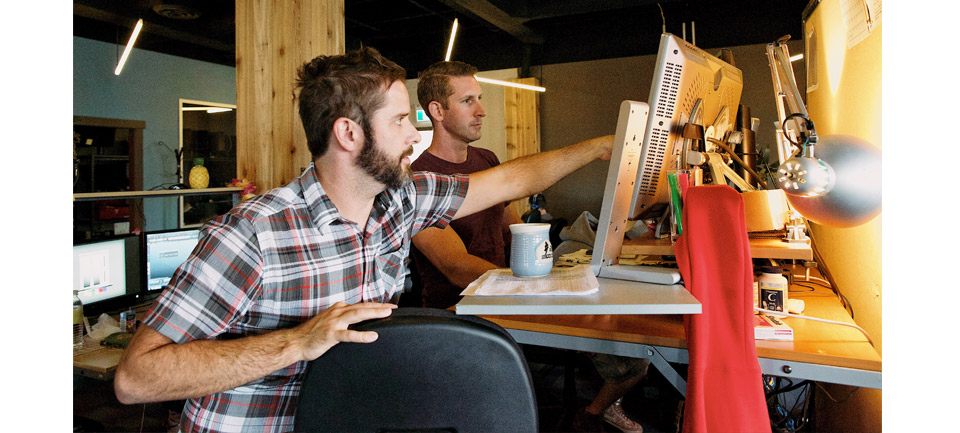 Welcome to the world of searching for a mortgage whilst holding a contract position. Mortgage lenders read the word "CONTRACT" in your letter of employment and what that word really means to them is "LIABILITY". And thus, a whole new sort of search begins – "The Adventures of Mortgage Shopping."
Now don't get me wrong here, finding a mortgage is really not that hard, every Bank of JoeBlow offers mortgages, what really became the challenge for my partner and I was finding a "Variable Rate Mortgage".
Without getting into all the details of the economy and such (which you will almost have to get into upon searching for a home), a variable rate these days is really what you want to find. It's very flexible in the long run, it offers you the lowest rates available based on the Prime Lending rates the Bank of Canada is offering – bla bla bla- you want a Variable mortgage- it can save you hundreds a month. Wellllll, 4 mortgage brokers/lenders later into my search for the elusive variable rate, and still we were coming up with "Yessir Aaron! You've been approved! …for a FIXED rate." BOOOOOO!! The fixed rate WILL get you a new home, don't get me wrong, but it wasn't ideal for us.
So! Now we're down to basically 15 days before closing on our home – meaning we had better get a mortgage in place or else a new home was not going to be in the cards for us, and oh ya, you loose your deposit on that home too! OUCH! Enter Bardel saviors Barry and Delna! Perhaps you've heard of them?? 😛
Barry and Delna happened to be in town that week, and we got to talking of my mortgage woes, the issues I was running into with the contractual nature of our work, and how the banks really didn't want to make that their issue. B&D quickly perked up upon hearing this. They mentioned that they were planning on starting up a bit of a program in partnership with their lenders out here to help folks like myself, in my "contractual situation" who were looking at buying a home. B&D said they'd had great dealings with these lenders and that the lenders were in a bit more of a position to take "risks" on us contract sorts. Well with the clock ticking, I figured there was nothing to lose. B&D put me in contact with lending firm #5, I sent them all the papers and documents and proof my being a real, honest to goodness working contributor of society (I was getting very good at this by this point), and sat back with fingers crossed, and with Barry and Delna's best wishes to back me … … …
Can a Contractor land the mortgage?
And??? In the shortest period of time YET dealing with these blood thirsty, skeptical, and heartless lending firms, my VARIABLE rate came through!! It IS possible for us un-reliable contractors to land the mortgage of your dreams! 😉 The relief I felt was amazing!! I quickly ran over into Delna's Kelowna office and gave her a huge hug and thanked her for all their help in helping me get my first home!!
So – if you like Kelowna and you're ready for a bit of a change of environment, mayyybe you should consider Kelowna?? I'm just sayin' – homes don't cost 3 times what they should, B&D wanna help you get there, and you probably won't have to ride that stinky Hastings bus anymore – and Kelowna needs your skills and pioneering spirit too!
That's my story, and I'm stickin' to it.
~Aaron
(new home owner, variable rate success story)