Above: Chad Weatherford accepts a well-deserved Emmy Award. Photo Credit: Bill Dow
Award season is in full bloom! With the recent Golden Globes, and the Oscars just around the corner, we sat down with 2016 Emmy Award winner and Bardelian Chad Weatherford to talk life, design, career and what it's like to win the Juried Award for Outstanding Individual Achievement in Animation for his work on the DreamWorks/Netflix animated TV show DinoTrux.
Ashley: Congratulations on your Emmy last year. What does it feel like to win such a prestigious award?
Chad: Thank you! It still feels pretty surreal, even a year later.
Ashley: Quick – What does it taste like? What does it smell like? First thing that comes to your mind!
Chad: It smells like gold-plated resin but I haven't tasted it. That's taking the question a bit too literally. Its super heavy and the wings come to a pretty sharp point. It's potentially a lethal weapon. I had to check it through baggage & customs to transport it to Canada
Ashley: What was the red carpet like?
Chad: It was an experience! I stumbled through this alternate world where people were yelling my name and snapping pictures. There were spots where we were supposed to pose for the cameras but I didn't know where to stand. I gave a few interviews. It was an optional part of the night, but I am really happy I did it.
Ashley: When did you find out you were nominated?
Chad: I knew that DreamWorks was putting me forward for the award. In fact, I was pretty involved in selecting the submission images and I had to compose a summary of the challenges I overcame while engaging in the design process. I knew the competition would be fierce, so I didn't have high expectations anything would come of it. Then, one idle workday morning in February I received a call from Executive Producers David Kidd and Ron Birch along with Randy Dormans. I thought that I might be in trouble. They informed me that I had won the Emmy for Character Design.
After our conversation I said, "Wait, did I get nominated or did I already win?"
They laughed and reconfirmed that I had won, but then somberly informed in me that I couldn't tell anyone. I was pretty shell shocked after that phone call. That was a couple months before the nominees and honorees were announced. For two months, keeping this secret felt like an alien wanting to burst out.
Ashley: I can only imagine…who nominates you? Do you know anything about the selection process?
Chad: The award I received was a Juried Award judged by industry peers. I think there were around 115 submissions and maybe 10 to 15 judges. The vote had to be unanimous or it simply wouldn't have been awarded.  Needless to say, I was incredibly honoured to have received it. I am told that it was also historic, in that it was the first CG show to ever be associated with the award. Normally a CG show won't feature 5 new characters in a given episode, which is one of the criteria for eligibility. In Dinotrux we did!
RELATED: BARDEL'S KING JULIEN DIRECTOR GOES TO THE EMMYS!
DinoTrux – Daily Life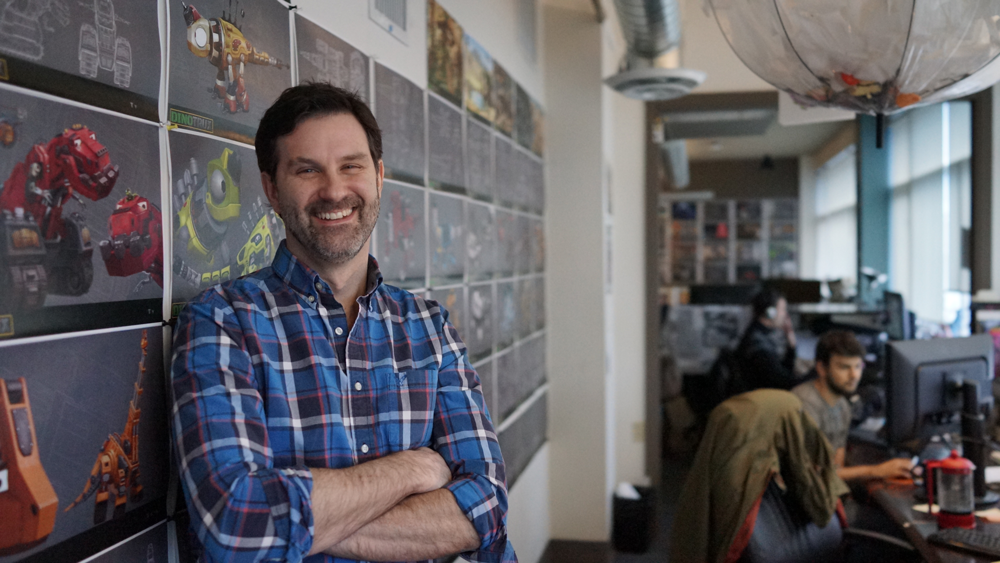 Ashley: Tell me, how would you describe DinoTrux?
Chad: At its core, the property is about mashing together some of the passions typically associated with young boys: trucks and dinosaurs. These mashups are the DinoTrux characters and they are the stars of the Mechazoic. The show tells the story of these unlikely friends coming together, fighting off danger, and building their way out of trouble at every turn.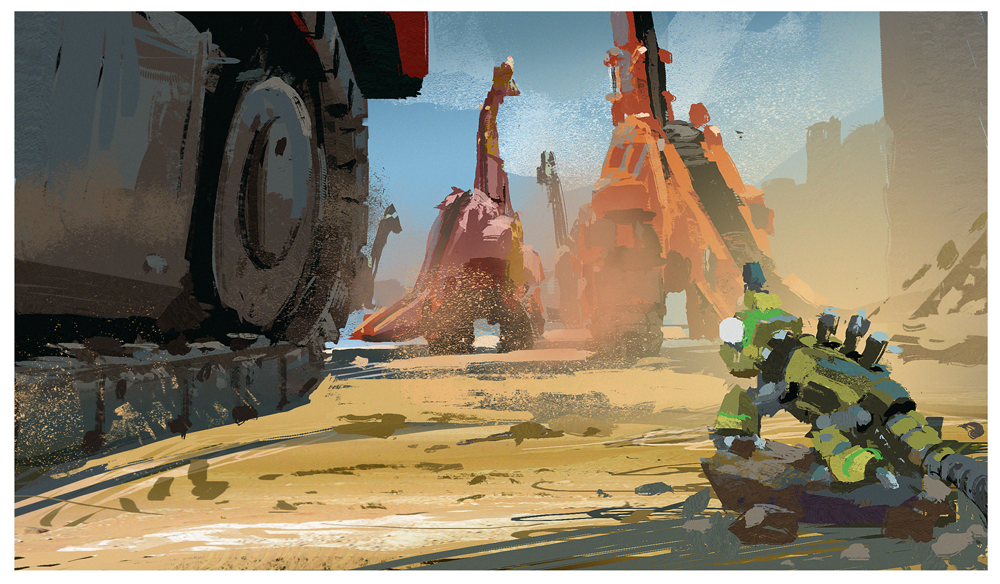 Ashley: Why is it special or different from the other shows Bardel works on?
Chad: There is a heavy toy component of the show and the characters are designed, largely, to be really cool toys. This drives decision-making for the characters and their interaction with the world they inhabit. The other big difference is there is no 'Squash and Stretch' in the animation of this world. The characters need to function in a semi-realistic manner, which results in a lot of engineering to try and balance the design aesthetic with the practical needs of the characters (to be able to move and emote). This balance dictates things like what shape a body section needs to be, and how large a piston can be to look impressive without causing issues in animation.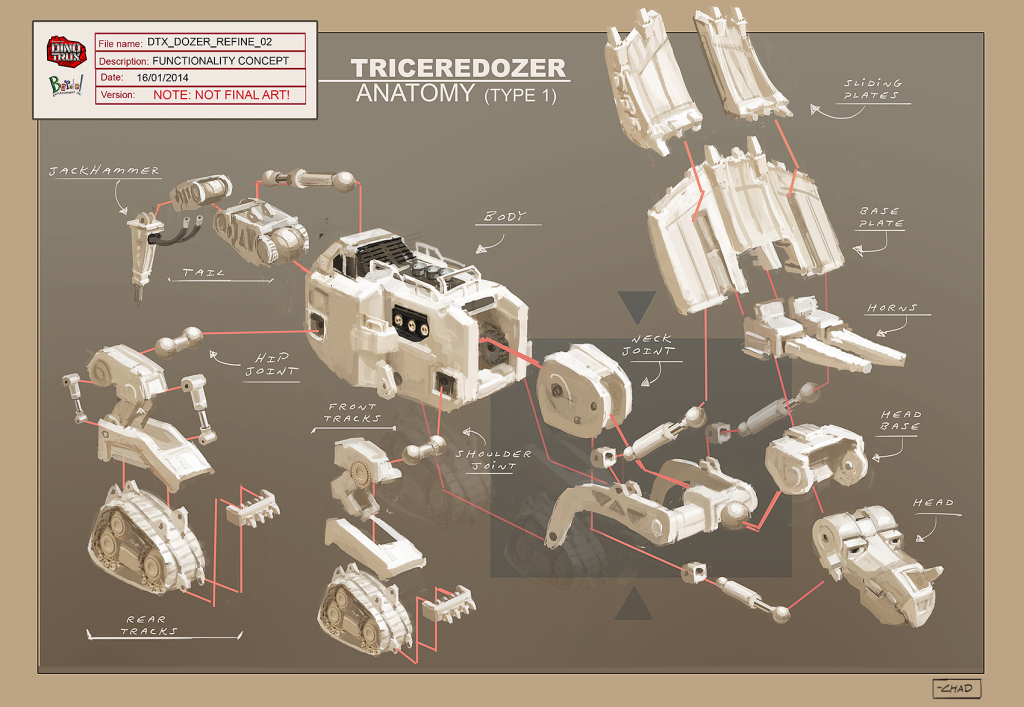 Ashley: You are the Design Supervisor on DinoTrux but prior to the win you were a Character Designer. What did your job entail prior to the win and what challenges did you face?
Chad: My primary focus was on the characters. The original cast of characters had a bit of a long road. When I was still with Oktobor Animation, a lot of exploration had already been completed on the major cast. We received literally hundreds of sketches by the brilliant Luca Zampriola. These were a goldmine of ideas but the explorations didn't necessarily finish off the characters. We took those as a launching point and injected a lot of appeal to the designs. There was a huge learning curve for me as I had never done mechanical design or industrial design to that degree.
Ashley: And what does your job entail now?
Chad: The major thing that has shifted from my Character Designer role is I am responsible for making a lot more calls now. I'm directly involved with the props and sets, as well as the characters. Thanks in large part to my history on the show, my finger is on the pulse of the world, which qualifies me to guide the assets on the Bardel side. On the DreamWorks side, Jonathan Pyun is active in steering the look and feel of the designs. I interact with him on a regular basis and we confer on the designs heading in and out.
I do still get my fingers dirty with characters, but often, I'm in a coaching role helping to guide the other designers in shaping their creations to fit the stylistic feel for the characters. I get real excited when one of the other designers gets a go ahead with their character designs! The characters and sets tend to be more involved and complex design-wise.
Ashley: What does a good day in your life (at work) look like?
Chad: I'm usually yanked in a hundred different directions, so a good day at work would involve no meetings, and relative 'quiet' so I can be hands-on with some designs and sweep them off my plate.
Ashley: And a good day outside of work?
Chad: I really enjoy it when I can get out somewhere and experience something new with my family. As a silver lining, I always take away some fresh inspiration. Something I may not have thought of under the normal day-to-day grind.
Ashley: What is the most challenging part of your job and working on the show?
Chad: When I first started DinoTrux, I had limited knowledge of mechanics and hydraulic systems. I had to research it relentlessly and draw in the evenings to solve problems for the next day at the studio. I put in a lot of extra work to overcome my own deficiencies to be able to design these characters.
Presently, one of the more challenging aspects of design has to do with recycling. The economy of a TV Budget often puts restrictions on what we can and can't do with the sets and props (the characters have proven to be less restrictive). We must reuse a lot of things created in earlier seasons to cobble together our designs. This is more challenging than designing something from scratch in many ways, especially in the early ideation phase. More-so than ever, we all rely on 3D to visualise designs for the show, allowing us to incorporate previously created models.
Ashley: I can see how working within those limitations keep you thinking creatively…what would you say is the most rewarding part about working on the show?
Chad: Seeing the episodes and characters come to life. The riggers, modellers, lighters and animators have done such a fantastic job with what was once just schematics on a page. I binge watch the episodes with my wife and daughter when they come out.
Ashley: What's the best thing about working at Bardel?
Chad: The people.
Ashley: Oh, yes! I totally agree…
Career Growth
Ashley: From your experience, can you speak a little about the opportunities Bardel gave you which opened the door?
Chad: Bardel was instrumental in getting me here and helping me set up in a new country, as well as providing an environment for me to excel. I had already worked on DinoTrux for a year in New Zealand (prior to the project switching over to Bardel). I helped establish the early design philosophy and I had a history working with these complex characters. This led to Florian Wagner, Bardel's Studio Creative Director to reach out to me on a recommendation from DreamWorks. Prior to arriving in Canada, [then Art Director] Zoe Evamy made a short period of working remotely really fluid. Once I arrived, I was allowed to thrive. I revisited older characters during this time period, and helped create some new ones. The creation of these characters led to the Emmy.
Ashley: What opportunities do employees have for career growth and advancement at Bardel?
Chad: If you work hard and are able to implement notes creatively and effectively and – most importantly – strive to make someone's job easier, you will be a valuable asset. This will open the doors to new opportunities. Bardel is small enough that this will be noticed. And it's large enough to have new shows and projects ready to launch for people who want to take on larger roles. There is also shuffling around on the floor for people who want to try something new. Bardel is very accommodating to that.
If you work hard and are able to implement notes creatively and effectively and – most importantly – strive to make someone's job easier, you will be a valuable asset. This will open the doors to new opportunities.
Ashley: So, how did you get into this industry?
Chad: Interestingly enough, I didn't get full time into the industry until my late 30s, so I brought a bit of life experience coming in. I was working in graphic design and sign-making 10 years ago, and my wife encouraged me to get a Master's Degree to help broaden my skills. Enrolling in graduate school was the only way I could devote time and focus on a body of work to bring into the industry. Interestingly, my portfolio wasn't tailored for animation whatsoever, but more so for games and feature film.
I was casting the net pretty wide, so I applied at games companies, as well as animation studios. After just missing the cut for Disney's intern program, I supplied images for Game of Thrones Ascent on a freelance basis over the summer after graduation. Finally I was hired by Oktobor Animation in New Zealand, and enjoyed a short stint at Weta Workshop before coming to Vancouver to work on DinoTrux.
Ashley: How long have you been in the industry?
Chad: I have been full time in the animation industry for almost 4 years. It has been tremendously rewarding.
Ashley: …did you always know you would eventually get into animation?
Chad: Honestly no. Oktobor Animation was the first studio to give me a shot at full time studio work and I've been surfing the animation wave ever since. I have managed to keep myself versatile, so I could potentially survive by plugging into related industries such as film or games.
Ashley: What kind of advice would you give someone coming into the industry who wants to advance their career?
Chad: Be open to criticism and have a genuine desire to get better at what you do.
Be open to criticism and have a genuine desire to get better at what you do.
Ashley: There's a lot of attention put on awards for recognition of good work. I'm curious, do you think awards are important? What place do they have? What does it mean to you and the recognition of your work?
Chad: I believe they are important. However, when you are putting all your energy into something and you are simply trying to make it the best it can possibly be, there is no thought of an award. I know there are so many people who have bled their souls into this show. The fact that DreamWorks appreciated and understood all the hard work was truly a humbling experience. I am so grateful for it.
Last Words
Ashley: What is something that no one knows about you?
Chad: I've worked with a writer since the age of 10, fleshing out his abstract visions into tangible images by wielding everything from crayons to digital paintbrushes. We've created posters, album covers, comic books, and recently film pitches which are making the rounds in Hollywood. I credit this for keeping me sharp when it comes to Previz work.
Ashley: What do you do in your spare time? Do you have any passion projects?
Chad: At this stage in my life, spare time equates to idle time at the bus stop or in transit from one place to another. In those moments I am either fleshing things out in my head for grander projects or if I have a tablet handy I will paint up images. I recently started my "365" project: which means painting 'a sketch a day' for one year. This is all in the hope that I'll hit the ground running when spare time does truly open up.
In addition to this, I'll occasionally strum a guitar or write portions of songs.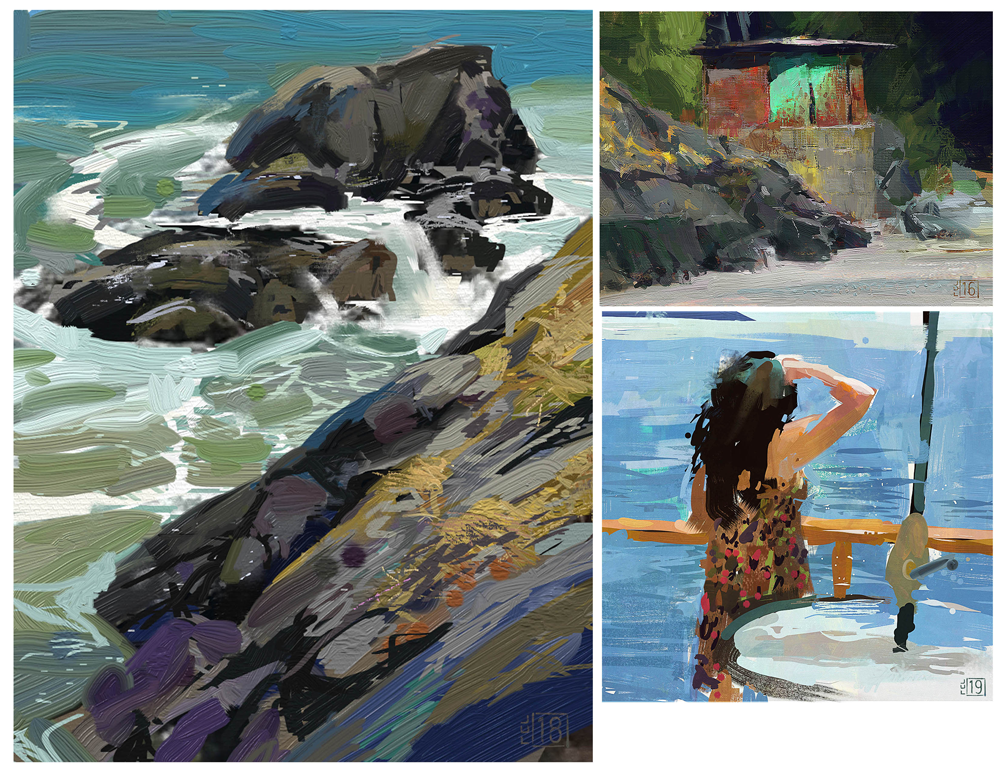 Ashley: What's something you still want to achieve career wise?
Chad: I'd love to try and have enough projects in my inbox that I could pick and choose. Also, I want to build a studio in a treehouse. If I'm lucky enough to still be alive in 10 years' time, I want to transition to fine art.
Ashley: …And what's something you want to achieve life wise?
Chad: Travel. It is really an amazing period of human history where we can get anywhere in the world relatively quickly and I'd love to take advantage. I've personally lived in 3 countries but my scope of travel experience is still pretty small.
Ashley: Do you have a favourite quote, author, artist or philosophy you live by? Or aspire to live by?
Chad: "Art is never finished only abandoned." – Leonardo da Vinci
This isn't necessarily a philosophy to live by, but just a reminder that creative endeavours will hardly ever reach perfection to my mind. In the end, hopefully they'll be better for clawing for the unattainable, but they will eventually need to be divorced and abandoned. When to abandon is a difficult question. This is much easier to answer with client work on a fixed deadline.
Ashley: Thank you so much for answering my questions!
Chad: You are welcome, thank you for asking them!