I had a chance to interview Chris Browne, Bardel's Studio CG Supervisor about working on the new PBS series, Mack & Moxy! Also featured in this interview is the SPARK lecture: Mack and Moxy: Lessons You Need to Deliver a Massive Ambitious New Show with Chad Van De Keere & Chris Browne, as part of the 2015 Spark Animation Festival.
Ashley: What's Mack & Moxy about? 
Chris: A funkadelic Moose named Mack, and a zany off the hook Raccoon/Badger hybrid named Moxy. They travel on comets to other worldly adventures rescuing tiny creatures out of glowing orbs.
Ashley: What does a CG Supervisor do? What does your job entail?
Chris: A CG sup sets up the pipeline and workflow for how the shows are created. They develop the tools that the artists use, while also ensuring that they achieve the creative vision of the director: in this case, Chad Van De Keere, Director (Animation) of Mack & Moxy.
Chad designed the main characters of the show, Mack, a loveable, moose-like lummox, and Moxy, a feisty whirlwind of a raccoon/fox-inspired entrepreneur. It was my job to create a way for the design team to quickly implement Chad's designs into three-dimensional sets more dynamically than on a traditional background. This allowed Bardel to create new environments quickly for every episode in an economic fashion.
Ashley: What did you enjoy most about working on the show?
Chris: What I enjoyed most was working with SUCH a talented team. They are all very innovative and highly skilled people. Animation lead Daniele Mieli did an amazing job with his team bringing these characters to life, and Lighting/ Compositing lead MJ Alajmi and his team nailed the look of this fantastical world. Modelling Lead Warren Dowsen, Rigging Lead Sheik Ghafoor, and Surfacing Lead Derek Goodfellow killed it in the asset department. Andrea Mayo, Production Manager and Liz Scully, Creative Producer did a fantastic job holding it all together. Thanks Guys!!!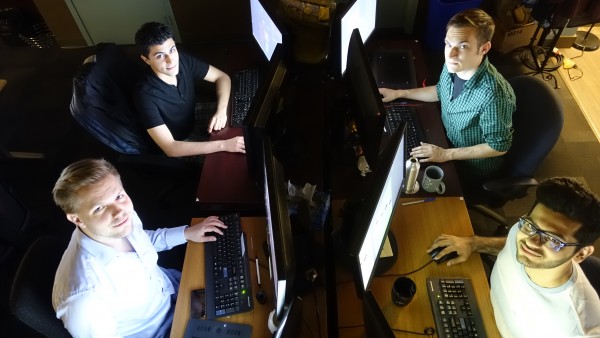 "Mack & Moxy LRC Team: Victor Bok, MJ Alajimi, Alex Krulicki & Usama Siddigui."
Ashley: What was the most challenging part of your job and working on the show?
Chris: Finding creative solutions on a tight schedule and on a show with such high creative demands.
Ashley: What is the most rewarding part about working on the show? What is one of the biggest successes you've experienced?
Chris: The most rewarding part is watching the work that we created and seeing it all come together. It's a lot of fun! The biggest success is seeing how thrilled the client is with every episode we create.
Ashley: Why is Mack & Moxy different than other Bardel show such as Puss in Boots, Dinotrux or King Julien?
Chris: Mack & Moxy involved a tiny team that developed everything entirely in house. From concept design straight through to final picture. All the technical tools, workflow, and everything was custom made and developed for this unique show. We rarely had any errors once we set everything up.
Ashley: How much leeway do the artists have to be creative on Mack & Moxy?
Chris: There were many wonderful and epic moments where the artists could spread their wings and throw everything they could at it…you'll have to watch the show to see!
Ashley: What's one of the best things about working for Bardel?
Chris: The People, the positive energy… and the 'Bean Bag-Multipurpose Room of Excellence': the sacred room that we screen our work to the team.
Ashley: What kind of advice would you give someone coming into the industry?
Chris: Working 9-6pm is for survival, anything beyond that is for success. I know it's a cliché but it's true.
Ashley:  Does this show have longevity?
Chris: Most definitely! Mack & Moxy is the kind of show that will stand the test of time, simply because the writing is incredible; the characters are iconic; the show explores modern themes that resonate with families all over the world – all of this is on the cutting edge of children's programming today. Not to mention the show is hilarious!!
Ashley:  Why is the show unique?
Chris: It's that zany character Moxy. She (I believe it's a she…) is just totally off the hook! Who would have thought that genetically splicing a badger with a raccoon would end up like that?!?!?! 
Ashley:  What do you do in your spare time?
Chris: Fly remote control drones. I have three.
Ashley: What's something that no one knows about you? 
Chris: I've been to the arctic twice. And once I was chased by a heard of Muskox.
Ashley: We heard your film just won a Leo award! Congratulations!! Tell me about that. How do you balance your job with such a passion project?
Chris: Yes. I just won the Leo for Best Visual Effects for my live action short film. I did all of the CG and VFX work myself on my home computer. It was challenging but fun! I put in a lot of hours, it's just what you have to do 🙂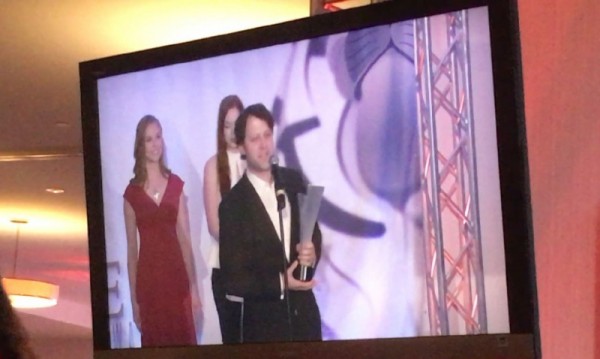 Ashley: Any last words?
Chris: Looking forward to season 2!
Ashley: Where can people watch the show?
Chris: MNM is airing on PBS!
Mack & Moxy is the first kids' show about causes that teaches children life-long lessons of charity and compassion. Partnering with the world's leading charities, each episode brings awareness to important subjects like Wildlife Conservation, Preserving National Parks, Anti Bullying, Staying Healthy, Emergency Preparation, Autism Inclusion, and Hunger. 
Check out Spark Animation Festival 2015. Mack and Moxy: Lessons You Need to Deliver a Massive Ambitious New Show with Chad van de Keere & Chris Browne